Today, you can find a huge number of baby strollers of all colors and sizes.

Some designers, engineers and even major car companies sometimes want to surprise their

unusual

, practical and less practical models of wheelchairs.

We have collected some of the most interesting carriages, which you may not find in stores today, but that stand out among a large number of other carriages offered in the market.
Pram - Batmobile (photo)
Every week, talented craftsmen from Hollywood create unique items for fans of comic book characters, video games and movies.
One of their latest creations is a stroller, created based on the movie "Batman Begins" and "The Dark Knight." Parents whose children just love superheroes really like this design, and maybe they will want to ride on it.
The newest stroller real man
The idea to create such a carriage came developers carmaker Skoda. They decided to call a carriage Skoda vRS Mega Man-Pram. It should be noted that the carriage was built for a reason, and to celebrate the release of the new and the fastest car of the above brands.
See also:
20 useful inventions, of which you had no idea
According to the developers, this stroller a real off-roader that can overcome any obstacles on the road. Its height is about 2 meters, it is equipped with rear-view mirrors, hydraulic suspension, all-terrain wheels, larger brake calipers, high beam headlamp and huge 20-inch aluminum wheels.
Stroller buggy Mad Max
Created based on the movie "Mad Max", this stroller is the work of a British carpenter. It is the world's fastest wheelchair that can travel at speeds of 85 km / h, although how this speed is safe for the baby remains a mystery.
Wheelchair coated with metal and is equipped with dual exhaust, the engine 10 hp and a metal platform for "driver." Here there is also a holder of the cup, or how to do at the speed of 85 km / h without a cup of coffee.
Taga: bike - stroller
This stroller has created an international team of designers and engineers. On the surface this is a common carriage, but it can be transformed into a bike in less than 20 seconds. In the wheelchair can be transported as a newborn
baby
, and
the baby
, who is already 6 years.
See also: 20 new inventions that should be in every home
Very convenient that an adult is sitting back and pedals, and the child is in a wheelchair in front - so adults can see what's going on in front. The frame is made of thick aluminum alloy, able to withstand heavy load.
Stroller - Skateboard
Child seat is on most of the boards, and the rear there is a place for adults who can push the stroller and then getting on the board and rolls with the baby. As in the previous model, the child is at the front, which is very convenient and safe.
Summer stroller for tough driver
Kid Kustoms team knows how to look tough stroller future driver. Everything in this model is made by hand using expensive high-quality materials.
Here there is a very sturdy aluminum base, the whole structure of stainless steel, white painted wheels, leather upholstery, springs and suspension on the original wings. But the interesting thing is that you can do to participate in its design.
Mercedes Benz stroller for babies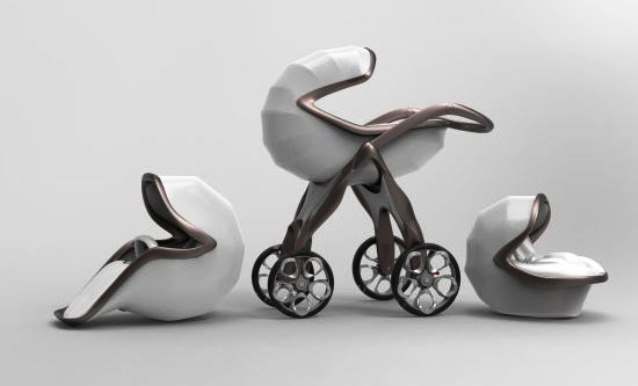 It seems that automakers are increasingly paying attention to the creation of accessible, considering them as an accessory of some of its main products. This concept pram company called Abeo, and he seems more like a work of art than a functional stroller.
Basis stroller is made of lightweight carbon and she folded stroller. Dimensions strollers are approximately the same as in the shopping cart. Unfortunately, even though she looks beautiful in wheelchairs is no place for small luggage, and it is not regulated.
Zigo - Another handy stroller - bike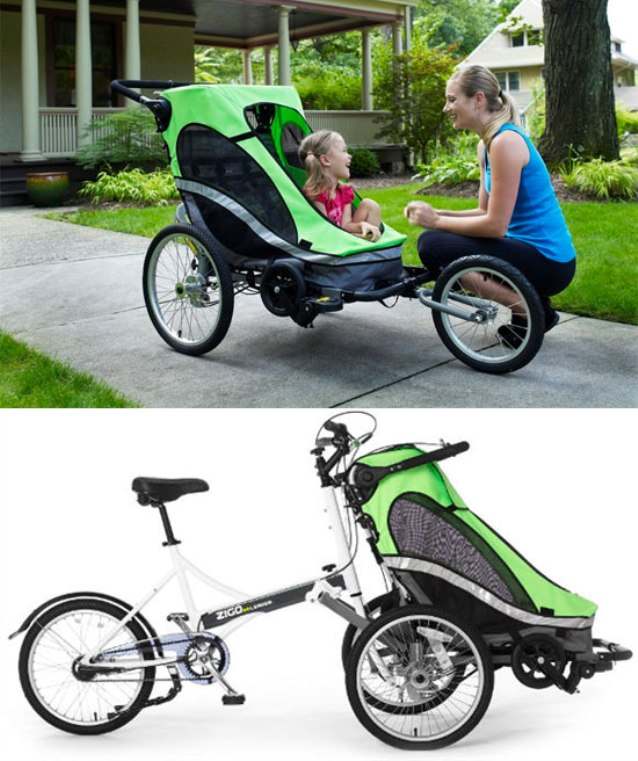 In fact, light bike Zigo Leader is 4 to 1. It can be used not only as a regular bike, but as a stroller, bike and truck design for those who like to run with the additional load. Just 30 seconds from the bike can turn stroller and vice versa.
Stroller and backpack 2 in 1
Created by Australian firm QuickSmart, this ultra compact stroller fits in a backpack. It can be easy to take with you on a journey. She even goes as hand luggage if you fly on an airplane.
She has three small wheels and roomy seat with cushions. Stroller also has a footrest, seat belts and basket for small luggage. In the seat fits the child from 6 months to 15 kg (4-5 years).
Walking multifunctional stroller Roller Buggy
This stroller can be transformed into a scooter. It can be used as a seat for a newborn, and a car seat. Of course, as in the case with a sidecar from "Mad Max" to the security of the present invention have questions.
Wheelchair - egg for a newborn
Designer John Nott (John Knott) created this stroller from handmade aluminum panels and parts from the old carriages. Stroller like a rocket and you would not want to keep the baby inside of this thing on a hot day.
Wheelchair - transformer TrioBike: Tricycle and pushchair in one
Triobike is a Danish company that creates family tricycles, transforming into the carriage. The wheelchair 5-speed belts, front and rear lights and even disc brakes. Kids just love to ride in a wheelchair.
Doona: universal stroller-seat
The company has created Doona car seat that can be converted into a pram. This means that with a stroller you do not have to buy a separate seat for at least the first six months after the birth of the baby.
Frame and wheel apart with just one simple movement, and arms of the chair becomes a stroller handle. The company also provides seven different colors for the strollers.
Three-wheeled carriage - spaceship
This stroller baby just will not want to leave, because it looks like a real spacecraft. There is a windshield and side windows, which protect the child in windy weather, as well as doors.
See also: 10 inventions that should be in every modern city
Babyoom stroller 3 in 1
Up to 3 years this stroller can be used as a car seat, and for children from 3 to 6 years and it can be transformed into a child's bike, and after that it can be used as a shopping cart. This stroller will last you a long time and will save a lot of space in the house and car.